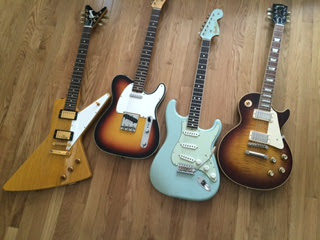 That old guitar of yours may be worth money. Did a Parent, Aunt, Uncle, Grandparent play the guitar in the 1950s & 1960s that may be laying around under the bed or in the attic? If you're looking to sell your guitar, bring it to an experienced Chicago guitar buyer that just happens to be a collector, as well.
At Chicago Gold Gallery, we understand the value of your axe. You may or may not play the guitar but have a guitar that will bring you a top cash offer payout! Bring it to our guitar store for a free appraisal evaluation.
It's easy to find out the value.
Bring It In to Find Out the Value of Your Guitar
If it has the old original receipt, paperwork, and hangtags it will add value so bring them along. Our expert collector buyer will pay the highest price for original condition guitars.
Some brands retain higher secondary market value better than others and are more desirable. For instance, Golden Era (1950s to 1960s), older vintage Gibson, Fender, Gretsch, Martin, Rickenbacker, or Guild will bring more value than vintage Silvertone, Kay, Airline, Harmony & Supro brands. But those lesser brands are still valuable.
If you're looking for an expert opinion on the value of your used guitar, bring it to the guitar store at Chicago Gold Gallery and we'll let you know what it's worth!
No Need to Clean Your Guitar
Sometimes if cleaned with improper cleaning products and cloths you can actually ruin value, so bring it in the original state & condition and let our experts see the aged beauty.
Condition Condition Condition plus 100% originality are the best combinations to receive the highest value. We still buy well-played used and worn, but Mint condition is always the highest value.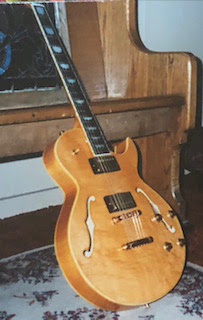 Find the Best Guitar Buyer
This is easy when you come to sell your guitar at Chicago Gold Gallery. Buying & Selling guitars, bass guitars amplifiers, effects & musical equipment is and has been a big part of our business.
At Chicago Gold Gallery, we're more than just guitar buyers. We're collectors, too. Our experts on staff have been playing guitar their whole lives, and buying and selling since the 1960s.
We have the knowledge, experience, and love for the instrument and its history that ensures you'll get more when you sell to us. Save time and bring it to Chicago Gold Gallery today for cash on the spot!
There's no need to worry about packing or shipping your gear and no sketchy meetings with strangers you met online. Bring it here and leave with top dollars in hand.
Visit Chicago Gold Gallery Today
Whether you're looking to trade-in or trade-up, Chicago Gold Gallery is the place you should come. Not only will we pay you the highest value for your guitars and equipment,
We'd love to talk guitar geek with you. Give us a call at 773-232-5260 to discuss what you have and turning it into Ca$h!