Top Prices Paid For Your Guitar.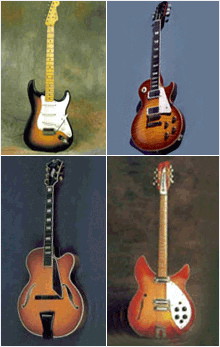 If you or a family member have an old guitar that you might not play any longer. Bring it into the experts at Chicago Gold Gallery for a Free Appraisal Evaluation and top prices paid. Chicago Gold Gallery offers more than just buying & selling gold & jewelry; we also buy and sell guitars, banjos, mandolins, ukuleles and other musical instruments.
Trusted Experts
Chicago Gold Gallery has experienced buyers that are collectors themselves that have been buying old and vintage guitars since the mid 1960's. This knowledge and experience will insure that you will get much more when you sell your guitar and musical instruments to them. We also buy old amplifiers and effects pedals.
Looking to Buy?
Not everyone can buy a new guitar for learning themselves or for a child. We also sell used guitars in Chicago so you can purchase a quality guitar for less than a new one would cost. This is a perfect opportunity for someone who isn't sure if he wants to play but would like to give it a try. Stop by often to see what instruments we currently offer so you can find the perfect one to meet your needs.