We Buy Collectibles!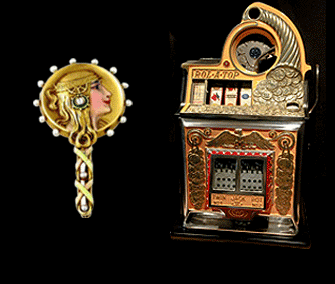 Our experienced professionals have been purchasing antiques and collectibles in this location since 1980 but have many years of purchasing since the 1960s. We are more than just gold buyers in Chicago & coin buyers in Chicago. In fact, we are well-informed professionals in purchasing gold, silver, diamonds, coins, watches, guitars, sterling silverware, and collectibles. Check out some of the collectibles we buy and learn how we can help you make top dollar on your valuables.
Slot Machines
If you find an old slot machine and you want to turn it into cash with buyers that collect them, bring it to our store and we can appraise it. The more original parts an antique slot machine has, the more value it holds. We will check it out and make sure it is a genuine vintage antique slot machine. If your machine isn't currently working, do not attempt to have it refurbished you can bring it to us as is to get top dollar for it.
Vintage Hawaiian Shirts
Did you know that even though Hawaiian shirts are sometimes seen as a tourist symbol, they actually have an interesting bit of history behind their unique style? Learn more here and find out how we can help get a surprising amount of cash for them! We have been buying Hawaiian shirts since the 1960s, and we can help you get the price you deserve for it when you bring it in and allow us to appraise it. We are knowledgeable & experienced buyers of these.
Stained-Glass Windows
We have been buying stained-glass windows for decades and can help you figure out how much yours is worth. Not all are valuable and many are, so call us to discuss what you may have.
Vintage Guitars
As trusted experts, we have experienced musician buyers on-site that are collectors themselves. These collectors have been buying old and vintage guitars since the mid-1960s and are knowledgeable in the business. We offer free appraisal evaluations and pay top prices, and can ensure that you'll get much more for your guitar when you sell it to us.
Gas Globes
Gas globes are spherical and sometimes Crown shaped glass that once sat atop a gas pump in the first half of the 20th century. The globe would advertise a specific oil company or brand of gasoline that the gas station offered. They are multiple colors and some were created with a silk screening process. If you have one, bring it into Chicago Gold Gallery today and we can tell you how much it's worth.
Antique Cast Iron Banks
These types of banks have been collectible art worldwide since the late 1800s. At Chicago Gold Gallery, we can appraise your antique cast iron bank and make sure you are getting the true value for it.
Sculpture & Artwork
We have been buying sculptures and artwork pieces since the 1960s. Our professional experts have decades of experience in the world of fine arts and can help appraise your art and more.
Old Toys
Toys grow in value as time goes by and if you keep your toys in good condition over the years, you may be able to make a lot of money off of them. Come to our store to find out how much your old toys are worth.
Vintage Glassware
If you have vintage glassware that is collecting dust in your home, bring it to us today and we are happy to take off of your hands. We have appraisers on-site that can help determine the value of your vintage glassware.
Steuben & Lalique Crystal
Steuben Glass Works was an American art glass manufacturer founded in 1903 and became the go-to for iconic designs. Lalique is a French glassmaker that was founded by René Lalique in 1888. Both types of crystals are marked so you are able to tell the difference and if they are authentic. You may recognize Steuben as a whiskey glass or Lalique as glass art such as bottles, vases, and hood ornaments. We buy both of these types of crystals, so come in today if you think you own one and want to get top-dollar for it.
Antique Bronzes
Bronze sculptures and statues come in all shapes and sizes. We are able to tell you if you have a bronze sculpture or statue, how it was created and if it is a collectible or not. Come to us to get your bronzes appraised, and we will give you the highest price possible for your valuables.