Contact Us Today!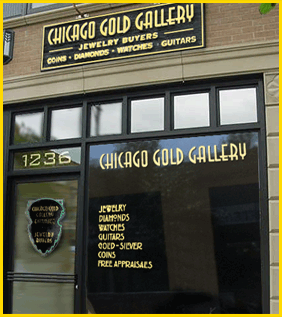 Since 1980, our experienced professionals have been purchasing gold, silver, diamonds, coins, watches, guitars, sterling silverware & collectibles and always insuring you get the most for your valuables.
Visit our convenient location:
Chicago Gold Gallery
Get the most for your valuables.
1236 W. Devon Avenue
Chicago, IL 60660
Phone: 773-338-7787
Email: chgogoldgallery@aol.com
Hours: Mon, Tues, Thurs, Fri: 10am – 6pm, Wed:9:30am-6:00pm and Sat: 9:30am-5:30pm
Have a question?
Send us a message and we'll get back to you with more information!
Serving the following ZIP codes and surrounding areas:
60660, 60626, 60613, 60610, 60645, 60659, 60640, 60201, 60640, 60035, 60611, 60622, 60642, 60091, 60016, 60017, 60018, 60019, 60657