The Best Place to Sell Jewelry in Chicago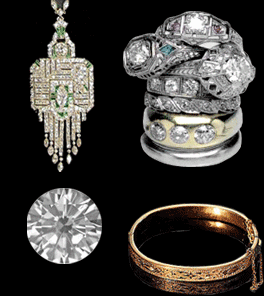 Are you searching for the best place to sell jewelry in Chicago? Look no further than Chicago Gold Gallery! With a rich history dating back to 1980, Chicago Gold Gallery has established itself as a premier destination for selling fine jewelry, diamonds, and gold in the Windy City. Our team of experienced professionals is dedicated to providing fair prices, exceptional customer service, and a seamless selling experience.
Here, we will delve into the reasons why Chicago Gold Gallery stands out as the top choice for selling your jewelry in Chicago.
Extensive Expertise: Chicago Gold Gallery boasts a team of knowledgeable experts who specialize in evaluating and purchasing a wide range of jewelry items. Whether you have modern or antique pieces, gold jewelry, estate items, high-grade watches, or diamond jewelry, our experienced buyers possess the expertise to accurately assess the value of your items and offer competitive prices.

Transparent and Fair Appraisals: When you choose Chicago Gold Gallery as your selling destination, you can trust that you will receive a transparent and fair appraisal for your jewelry.
Our appraisers understand the intricate details and nuances that contribute to the value of each piece, ensuring that you are provided with an accurate assessment. Chicago Gold Gallery takes pride in offering competitive prices to ensure that you receive the maximum value for your jewelry pieces.
A Wide Range of Accepted Items: Chicago Gold Gallery accepts various types of jewelry, including gold, silver, platinum, Cartier pieces, old gold, bracelets, earrings, rings, Tiffany items, and jewelry from different eras such as Art Nouveau and Victorian. Whether you have broken or unused jewelry, modern pieces, or antique treasures, Chicago Gold Gallery welcomes them all.

We are also experienced diamond buyers, and will provide an accurate appraisal of any pieces containing diamonds or precious stones.

Trusted Reputation: Over the years, Chicago Gold Gallery has earned a trusted reputation among its clientele. Countless customers have lauded their professionalism, honesty, and reliability. Their commitment to providing a positive selling experience has led to numerous satisfied clients who have recommended Chicago Gold Gallery to their family and friends.
"I have dealt in coins and metals since the 80s. Had dealings with many dealers. Got scammed by a few. Chicago Gold Gallery is the only one I would recommend to my family or friends. Have your valuables appraised by them before you sell." – Raymond K.
Chicago Gold Gallery, Trusted Chicago Jewelry Buyers
Whether you possess heirloom pieces, designer jewelry, or precious diamonds or gemstones, Chicago Gold Gallery is the place to go. Entrust your valuables to our knowledgeable team and receive fair prices for your treasured possessions. Visit Chicago Gold Gallery today and discover why we are the trusted choice for selling jewelry in Chicago.