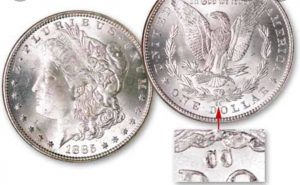 We as coin buyers in Chicago are continually looking to purchase old United States coins of all denominations whether Gold, Silver, Copper or Nickel. If you're thinking to sell Silver Dollars we are always buying them. We particularly are interested in the Carson City silver dollars minted from 1878-1893 sometimes including the 1900 O/CC.
The survival rate is very low from the original numbers minted and some Carson City mintage dates are rarer than others.
While the Carson City silver dollars were minted between 1878 to 1893
The rarer dates include :
1878 CC
1879 CC
1880 CC
1881 CC
1885 CC
1889 CC
1890 CC
1891 CC
1892 CC
1893 CC
The 1889 CC is considered the most sought-after Carson City dollar.
The way you can know if you have a Carson City dollar is to look on the reverse side ( eagle side) and look at the bottom between the word
One Dollar ( see photo) and if there are the letters CC then you have a Carson City.
If you discover that you own a Carson City dollar bring it into the best coin buyer in Chicago at Chicago Gold Gallery. Our experienced buyer will give you a free in-person evaluation and make a cash offer to buy your coin and collection on the spot! We also purchase other coins as well. Call and come in today, there's always easy safe parking right in front of our store.