John Lennon Rickenbacker gifted to Ringo Starr to go on auction.
Starting Bid: $300,000
Estimate: $600,000 – $800,000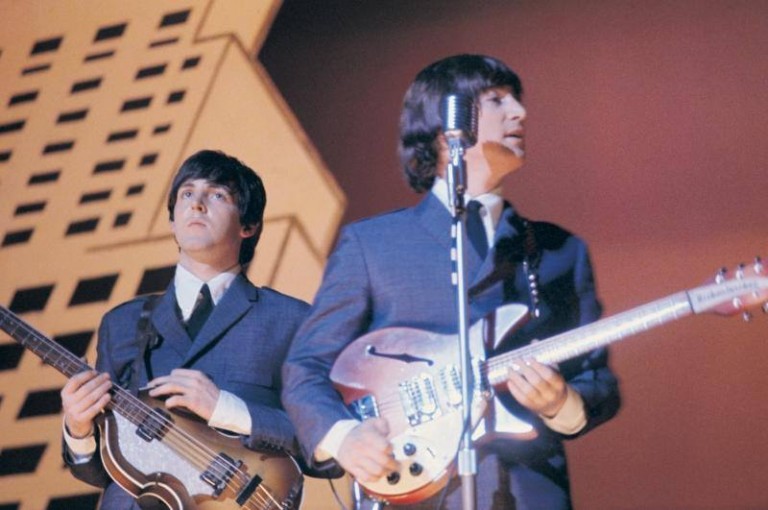 A 1964 Rose-Morris Rickenbacker, model 1996, nick-named "The Beatle Backer" owned by John Lennon and later gifted to Ringo Starr. The guitar is semi-hollow bodied with an F-hole, in fireglo finish, serial number DE519. This guitar was originally given to John Lennon by Rose-Morris, the official UK importer of Rickenbacker, when his 1964 Rickenbacker 325 was damaged during a Christmas performance.
As stated by Andy Babiuk in his comprehensive book Beatles Gear: All the Fab Four's Instruments from Stage to Studio:
"Lennon's misfortune became Rose-Morris's great fortune. The Beatles had so far only dealt with Rickenbacker in the USA, but now the British distributor was able to act directly and to cash in. By giving Lennon a new fireglo-finish 1996 model – the British equivalent of the 325 – Rose-Morris felt justified in using the Beatles and Lennon in its own advertising campaign. New ads appeared, with one prominently bearing the slogan: "Rickenbacker the Beatle backer." It featured a picture of Lennon and the 1996 guitar, adding: 'This is the famous Rickenbacker guitar model 1996 as used by Beatle John Lennon. For a long time now, John and his Rickenbacker have been inseparable, so why don't you try one at your local music shop?'"
Lennon played this guitar for the remaining 1964 Christmas shows. This guitar can also be seen in photographs, taken in 1967, in Lennon's home music-room. In 1968 Lennon gifted the guitar to Starr.
In 1968, when tensions were rising among the Beatles, Starr, briefly left his bandmates who were recording The Beatles aka the "White Album". When he returned, fresh with new material he had written, Lennon gave him this Rickenbacker. Lennon thought the guitar would fit Starr well and wanted to encourage Starr to write more songs.