United States
gold coins
have always been interesting and collectible having intrinsic value as well as numismatic value and rarity. Some of the more common denominations are the
$20.00 gold, $10.00 gold, $5.00 gold, and $1.00 gold.
There are some that are not known to many except collectors & numismatists, these are:
The extremely rare & prestigious $4.00 Stella gold; there were two designs made:
Type 1: Flowing Hair (1879-1880)
Type 2: Coiled Hair (1879-1880)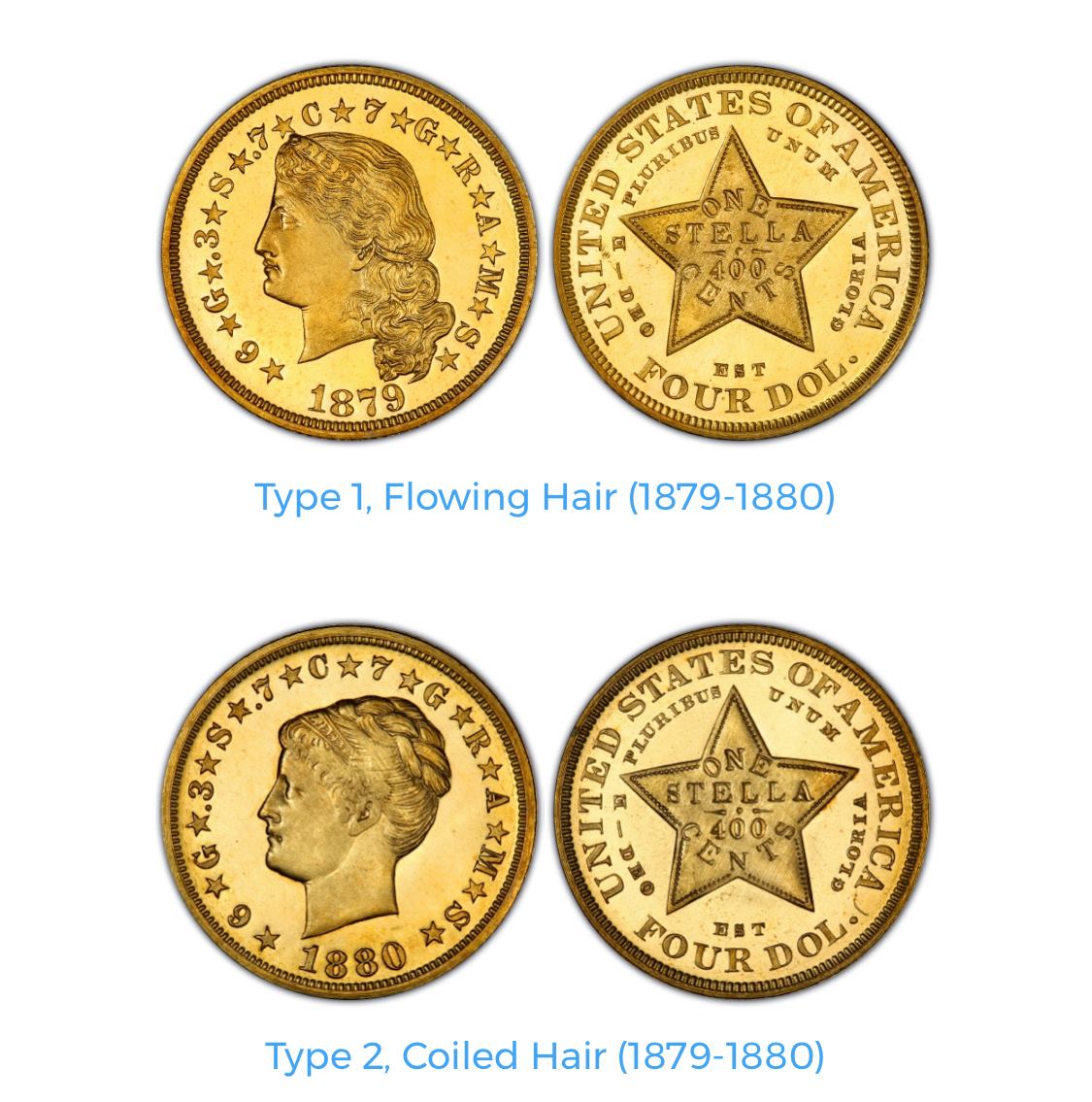 $4 Coin
The United States four dollar coin, also officially called a Stella, is a unit of currency equivalent to four United States dollars. It was originally minted as a universal coin exchangeable with any currency around the world Composition: 85.7% gold, 4.3% silver, 10% copper
$3 Princess
The Three Dollar Gold Coin denomination, issued from 1854 to 1889, was a product of the times, and its uniqueness adds to the enthusiasm for collecting odd denomination coins in the series. Three Dollar Princess gold coins were made in an era when the United States was expanding economically and well beyond its borders. Supposedly, the coins were created to make the purchase of a sheet of 100 postage stamps, which at the time cost three cents each.
$50 Gold
There were the United States $50.00 gold pieces made as Pattern and for commemorative events like the 1915 Panama Pacific International Exposition. Panama Pacific Gold $50.00 coins were made in an octagon as well as round shape and are rare & valuable. The present-day American Eagle gold one-ounce bullion coin is a $50.00 denomination but not rare like the Pan-Pac or Patterns from the 1800s and early 1900s and more common $2 1/2 Dollar Liberty ( 1840 – 1907) & $2 1/2 Indian Gold (1980-1929).