The 7-string jazz guitar is a unique instrument that has recently gained popularity among jazz musicians. While traditionally, jazz guitarists have used 6-string guitars, the addition of an extra string has provided them more room to explore and express their creativity. Let's explore the unique qualities of the 7-string jazz guitar and how it has become a favorite among jazz guitarists.
Archtop Guitars for Jazz
Jazz musician guitarists typically have used archtop hollowbody guitars with F holes, whether acoustic or amplified, since the introduction of these guitars in the 1920s and 1930s—and have still proven to be the choice for jazz. In the 1970s, many jazz guitarists started to use semi-hollow body guitars for jazz, and they continue to use them along with the hollow body models today. They have a deeper, rounder tone, exemplified in the music of Charlie Christian, Pat Martino and other jazz greats
Classical Guitars for Jazz
Classical jazz guitars are known for their unique tonality and sustain, which makes them a great choice for classical music. Some jazz musicians, including Charlie Byrd, Earl Klugh, and Gene Bertoncini preferred the mellow, resonant sound produced by classical guitars and often chose them for both their performances and recordings.
The nylon strings on a classical guitar produce a warmer and softer sound, which lends itself to classical music. However, they are utilized by jazz musicians who prefer this over the upfront tone of an electric steel-string jazz guitar.
The traditional 6-string guitar has some limitations when it comes to playing jazz chords and bass lines simultaneously, or with a trio without a bass player or a solo (just don't tell Joe Pass). The addition of an extra string has helped overcome these limitations, and allowed experimentation with a variety of chord voicings and bass lines.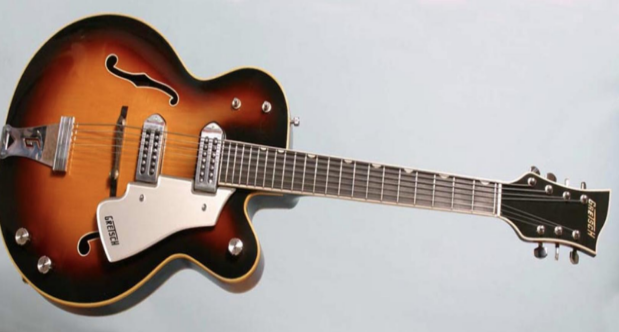 7-String Epiphone and Gretsch Guitars
George Van Eps, considered the father of the 7-string guitar, designed the blueprint for the guitar himself and took the concept to Epiphone. He began to use it at live performances shortly after receiving the finished product.
In 1956, Van Eps debuted the 7-string guitar on record with his first album as a leader: Mellow Guitar. His command of inner voice movement and triads was a groundbreaking development for the jazz guitar, and remains a benchmark, even today.
While Van Eps debuted the 7-string, many others followed in his footsteps. Vintage Gretsch, and vintage USA-made Epiphone 7-string jazz guitars became popular with the likes of Bucky Pizzarelli, and Lenny Brue. In the 1970s, Allen Hanlon, a former student of Van Eps, switched over to a 7-string for the remainder of his career.
The 7-string jazz guitar is known for its unique design and versatility. It has a wide neck, to accommodate the extra 7th string. Some have laminated tops, some have a solid spruce top, and each produces tones from warm to bright, depending on the construction. The extra string allows for playing of lower notes, which can help to fill out the sound of a jazz trio or solo act.
Today, the premier, modern day 7-strings are created by contemporary guitar luthiers like Benedetto and Monteleone.
Why Has the 7-String Jazz Guitar Become so Popular?
While the 7-string jazz guitar has been used since its debut in the 1950s, it has seen increasing popularity in recent years. Many jazz-rock fusion guitarists like Steve Vai, use it to express their unique voice in the jazz world and rock genre. The 7-string guitar allows for creation of a fuller sound and allows the guitar to take on a more prominent role in the rhythm section, with the addition of a low B string.
In addition to playing chords and bass lines, the 7-string is conducive to solos. The added range of the instrument allows guitarists to play higher notes and explore new melodic ideas. The 7th string also allows guitar players to use drop-D tuning, which can add a new dimension to their playing.
We Buy Guitars
If you have a 7-string jazz guitar, or any other vintage guitar that you inherited from a relative or simply don't play any longer, reach out to our experienced guitar collectors at Chicago Gold Gallery for a fair and honest appraisal. If we are interested in your guitar, and you accept our offer, you can walk out the door with cash today!