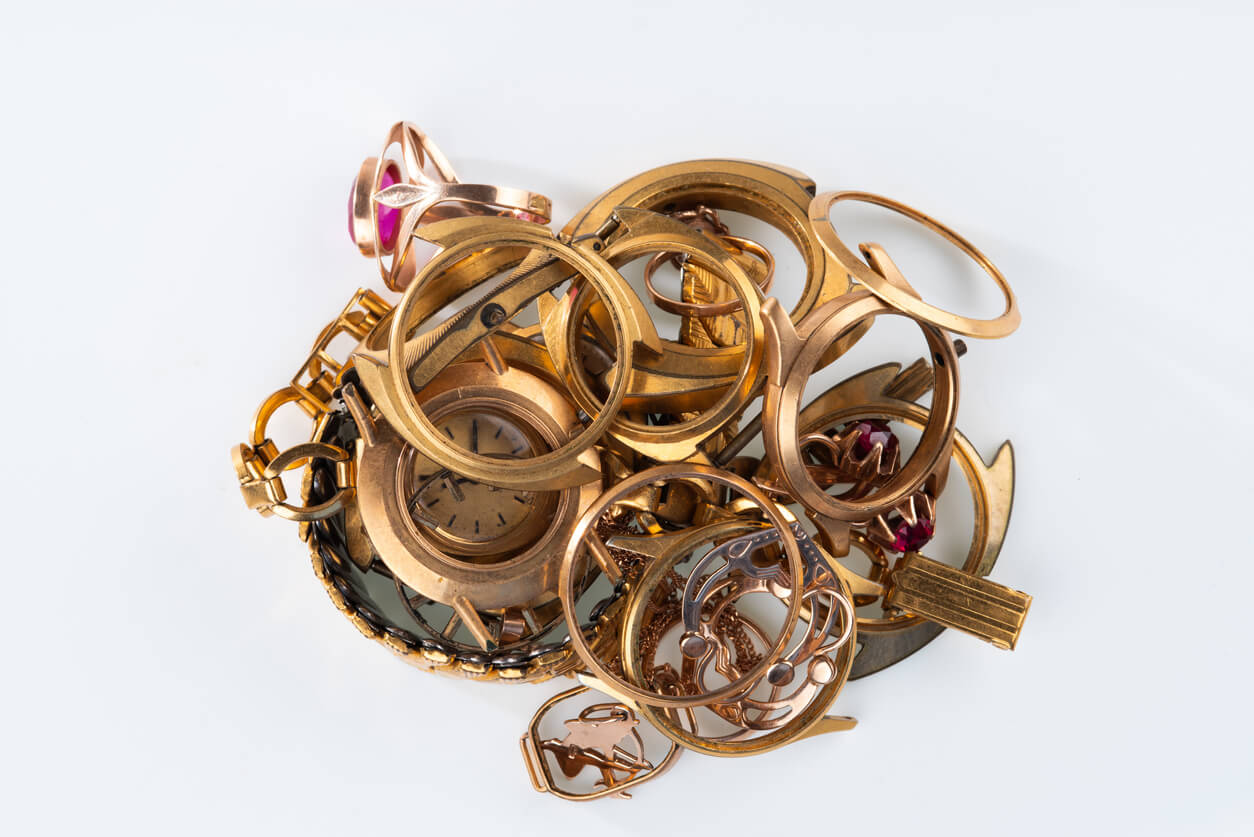 If you're looking to sell your gold in the bustling city of Chicago, it's essential to find a reputable dealer who has been in the business for years and boasts reliable on-site appraisers. In this article, we'll guide you through the process of selling various gold items, such as old jewelry, unused pieces, broken items, and even gold coins. Discover the benefits of selling gold for cash, particularly during these challenging economic times.
Selling Old Gold Jewelry, Garage Sale Finds, and Broken Pieces 
When it comes to selling gold jewelry in Chicago, a reputable dealer is your best bet for receiving fair appraisals and competitive prices. 
Whether you have outdated pieces, inherited jewelry, or broken items gathering dust, selling them can provide you with extra cash. Consider that old tangled gold necklace, or that broken gold bracelet you've never bothered to repair. A trusted dealer will evaluate the quality and purity of your gold, taking into account factors such as karat weight and condition.
To sell your old gold jewelry, start by gathering all your items and assessing their condition. Separate any broken or mismatched pieces, as well as jewelry you no longer wear. These items can still hold significant value. 
Next, research reputable gold buyers in Chicago with a solid track record and positive customer reviews. By choosing an established dealer, you can trust that their on-site appraisers will accurately assess the value of your gold jewelry, ensuring you receive a fair price.
Selling Gold Coins for a Fair Price 
If you own gold coins and are considering selling them, a trustworthy dealer can provide you with a fair appraisal and an attractive offer. Gold coins have intrinsic value and it's simple to find people looking to purchase them. However, it is crucial to find a trusted dealer with experience in dealing with gold coins to ensure you receive a competitive price. Reputable dealers will have expert appraisers who can accurately evaluate the market value of your coins.
By working with a reputable dealer who buys all types of gold, you benefit from their industry expertise and fair pricing policies. They will consider factors such as the coin's weight, purity, and overall condition. Be sure to choose a dealer with a solid reputation and a history of satisfied customers to ensure a smooth and transparent transaction.
The Benefit of Getting Cash for Gold in Difficult Economic Times 
In today's challenging economic climate, selling gold for cash can provide much-needed financial relief and flexibility. Gold holds its value and often appreciates over time, making it a valuable asset to leverage when facing economic uncertainty.
Selling gold to a reputable dealer offers a convenient way to convert your unused or unwanted items into immediate cash. By working with an established dealer with reliable on-site appraisers, you can rest assured that you're receiving a fair and accurate valuation for your gold items.
Whether you sell old gold jewelry, garage sale finds, scrap gold, or gold coins, the cash you receive can be used to meet pressing financial needs, pay bills, or even invest in other areas of your life. During challenging times, the liquidity and stability of gold make it an attractive option for those seeking to improve their financial situation.
#SellGold #GoldBuyers #CashForGold